The duplicate clips dialog allows to copy or move clips.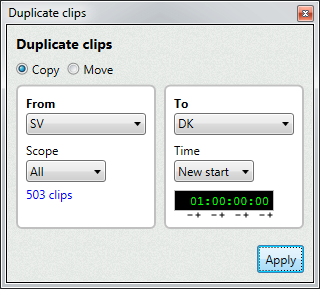 •Copy
The clips will be duplicated.
•Move
The clips will be moved.
From
Specifies the source track.
Scope
Specifies the clips to process.
To
Specifies the target track.
Time
Specifies the modification to be applied to the times.
•Unchanged
The times remain unchanged.
•New start
The clips will now start at the given time.
•Offset
The times will be offset a given amount of time.